NZ National Ford Mustang Convention History
New Zealand's very first national Mustang convention was held in Taranaki on Labour weekend in 1979 and followed on from an event held one year earlier which saw Cadillac and Mustang owners getting together to stage a car show
Drag racing was introduced to the convention programme by the Waikato group for the 4th Annual Mustang Convention in 1982 with Champion Dragway, Meremere providing the venue and some of the expertise needed to operate the track. This feature was repeated again in 1987 when the Waikato Mustang Owners Club again hosted the national convention.
Participation in the annual convention crept into three digits for the 1995 event hosted by the Auckland Mustang Owners Club when 100 Ford Mustangs were registered. This was at Auckland's fourth staging of the convention. This feat was repeated in the new millennium when Auckland again attracted 100 Mustangs to the 2000 Mustang convention.
One year later the Manawatū Mustang Owners Club set a new record with 115 cars in attendance. This number jumped to 124 in 2005 when Auckland once again hosted the convention. 2008 saw the number jump again when Canterbury hosted Mustangs and 150 of them showed up. This number skyrocketed to 239 when the Mustang celebrated its 50th Anniversary year and Canterbury once again hosted us in 2014.
Thirty one events were staged over the years with Taranaki, Auckland, Manawatū, Waikato and Canterbury regions hosting, then in 2011 Southland joined the list of hosts with their first event based in Invercargill at which 250 cars participated.
The Bay of Plenty Mustang Owners Club were due to host their very first convention in 2021 but the dreaded COVID-19 put paid to their plans. Which brings us to 2023 and the Auckland Mustang Owners Club Inc. once again hosting. Who knows, perhaps another attendance record will be broken.
(Convention History courtesy of AMOC)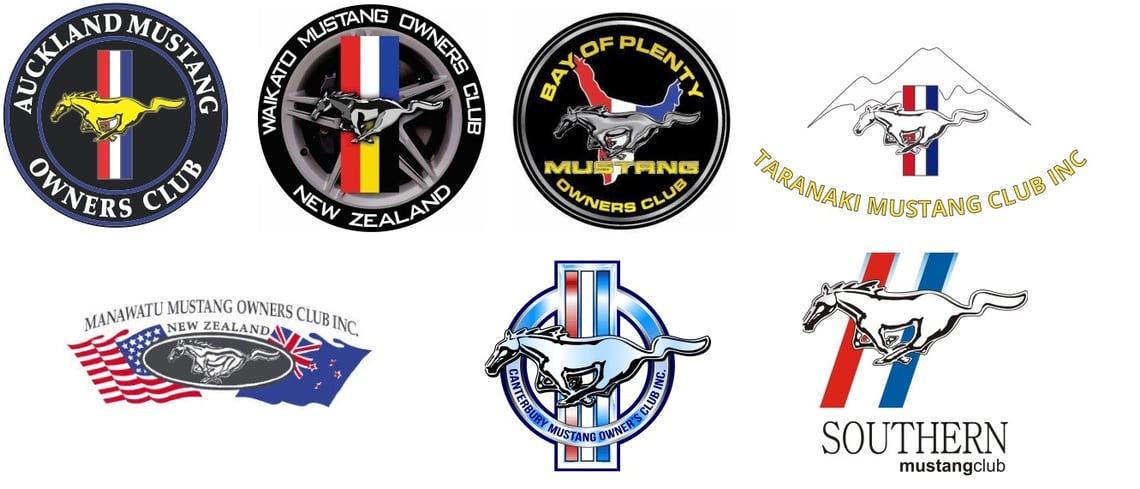 NZ National Ford Mustang Convention Schedule 1979 - 2027
#

Year

Host

Venue

Cars

Comments

0
1978
Taranaki
New Plymouth
FIRST EVER Mustang (& Cadillac) Show
1
1979
Taranaki
New Plymouth
The First Ever dedicated National Mustang Convention
2
1980
Auckland
Auckland
3
1981
Manawatu
Palmerston North
4
1982
Waikato
Hamilton
Car show was held at the local Ford Dealers (Fairview motors)
5
1983
Canterbury
Christchurch
Show venue Pioneer Stadium
6
1984
Taranaki
New Plymouth
7
1985
Auckland
Auckland
8
1986
Manawatu
Palmerston North
9
1987
Waikato
Aaron Court Motel Hamilton
Show venue Senior Citizens Building in Victoria Street
10
1988
Canterbury
Christchurch
Show venue Christchurch Convention Centre
11
1989
Taranaki
New Plymouth
12
1990
Auckland
Auckland
13
1991
Manawatu
Palmerston North
-
1992
Waikato
No Convention Held
NA
Waikato Club Unable to Host
14
1993
Canterbury
Redwood Hotel Christchurch
?
Show venue Turner's Car Auctions Moorhouse Ave
15
1994
Taranaki
Quality Hotel New Plymouth
73
Car show at the TSB Stadium
16
1995
Auckland
Logan Park Quality hotel Auckland
100
Show at Mt Smart Supertop at Ericsson Stadium
17
1996
Manawatu
Quality Hotel Palmerston North
71
Car show at the Akers Pavillion
18
1997
Waikato
Quality Hotel Hamilton
69
Show at the Claudelands Showgrounds
19
1998
Canterbury
Airport Plaza Hotel Christchurch
?
Show at Chch Convention Centre
20
1999
Taranaki
Quality Hotel New Plymouth
88
Car show at the TSB Stadium
21
2000
Auckland
Waipuna Hotel Auckland
100
Lovely Sunny weekend
22
2001
Manawatu
Quality Hotel Palmerston North
115
Sunny: New Record Turnout
23
2002
Waikato
Quality Hotel Hamilton
100
Wet but well enjoyed event
24
2003
Canterbury
Garden Hotel Shirley Christchurch
113
Sunny: Record South Island Turnout. Show at Chch Convention Centre
25
2004
Taranaki
New Plymouth
121
Wet: but great turnout
26
2005
Auckland
Waipuna Hotel Auckland
124
Fine: A new national record turnout
27
2006
Manawatu
Kingsgate Hotel Palmerston North
124
Wet: but a record equalling turnout
28
2007
Waikato
Kingsgate Hotel Hamilton
129
Sunny: A new registration record.
29
2008
Canterbury
Latimer Lodge Christchurch
150
Huge!!! Another registration record!
30
2009
Taranaki
Quality Hotel New Plymouth
120
Sunny: Brilliant convention
31
2010
Auckland
Grand Chancellor Auckland Airport
147
Superb convention, with awesome weather.
32
2011
Southern
Invercargill
130
1st Southern Convention: 250 delegates+ Good weather
33
2012
Manawatu
Wellington
116
Show venue TSB Arena on waterfront.
34
2013
Waikato
Kingsgate Hotel Hamilton
136
Show at Claudelands Centre
35
2014
Canterbury
Rydges Hotel Christchurch
239
Mustang 50th Anniversary year. Show venue Turner's
36
2015
Taranaki
Quality Hotel Plymouth International
124
50th Anniversary of Shelby
37
2016
Auckland
Spencer on Byron Takapuna
151
Car Show at Viaduct Events Centre
38
2017
Southern
Ascot Park Hotel Invercargill
170
Show venue at ITL Stadium
39
2018
Manawatu
Napier
167
Main function centre at Napier Convention Centre
40
2019
Waikato
Distinction Hotel Hamilton
168
Outdoor show at 4 Guys Autobarn
41
2020
Canterbury
Rydges Hotel Christchurch
225
Show at Horncastle Arena
42
2021
Bay of Plenty
Hotel Armitage Tauranga
241
Trustpower Arena, Baypark Cancelled due to Covid-19
43
2022
Taranaki
Plymouth Hotel New Plymouth
?
Car Show at TSB Stadium
44
2023
Auckland
Ramada Suites Manukau Auckland
Show at Due Drop Events Centre (Formerly the Vodafone Events Centre)
45
2024
Southern
Invercargill
46
2025
Manawatu
Palmerston North
47
2026
Waikato
Hamilton
48
2027
Canterbury
Christchurch

Some photos and articles in this website are courtesy of members, clubs, publications or social media