2003 - 24th National Ford Mustang Convention
The 24th National Mustang Convention was hosted by the Canterbury Mustang Owners Club in Christchurch on 24-27th Oct 2003. 113 cars and over 200 people registered, making it the largest South Island convention ever. Of particular note for this convention was the very welcome formal inclusion of the two newest clubs: Bay of Plenty Mustang Club based in Tauranga, who attended with 5 cars, and the Southern Mustang Club based in Invercargill, who brought 26 cars.
Chch Convention Centre was the fabulous venue for the Mustang Show
Convention HQ was Shirley Lodge
Ray Spencer was both President and the Convention's lead organiser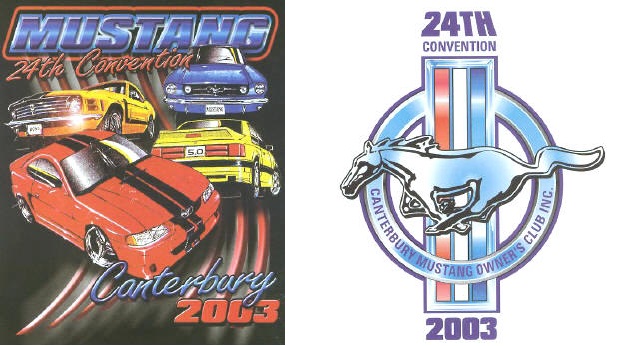 Thursday/Friday Registration
The convention was headquartered at the Garden Hotel in Shirley, with others booked into motels nearby. Cars began arriving all during the week with a big influx on Thursday.
Stories of speeding tickets, mechanical dramas and other problems abounded. At least three people got tickets between Picton and Christchurch, Noel and Rose King had a wheel bearing collapse in their Mach 1 at Foxton, and then had alternator and sick running engine problems. Wal Marshall's Boss 429 boiled the battery nearly dry due to a faulty voltage regulator, and refused to idle under 1500 rpm. It got a new battery, and a new voltage regulator - thank you Bart for carrying a spare one!. Several cars struck idling problems and, as no obvious cause could be found, poor fuel quality was suspected.
Ross Cheer and Bev Brooke found the newly rebuilt auto in their 65 hardtop would not upshift out of second, so were forced to drive all the way from Dannevirke to convention in 2nd gear! Colin and Merlyn Bates and Kevin and Margaret Mold of Waikato Club, had their cars backed into by a semi trailer truck unit at Turangi. Miraculously only the bumpers on both cars were damaged. The Mold's Mach 1 was another that stopped idling on the way down.
For those that arrived on Thursday or earlier, long hours were spent cleaning (and in some cases repairing) cars ready for the show. Three cars went out to Hornby for dyno tuning on Friday morning to try to cure various problems.

The rarity of a Boss 429 in ChCh ensured some dedicated attention! Wal's Boss 429 at full blast on dyno: 370 ft/lb of torque at 3000 rpm.

Saturday Car Show
Sure enough it rained overnight but the morning was clear and fine. After the usual towelling off, the cars headed out progressively from 6.30 am to the Canterbury Convention centre across the road from the Town Hall in the centre of Christchurch. By 10 am, 103 cars were positioned and detailed ready for the show opening at 10 am.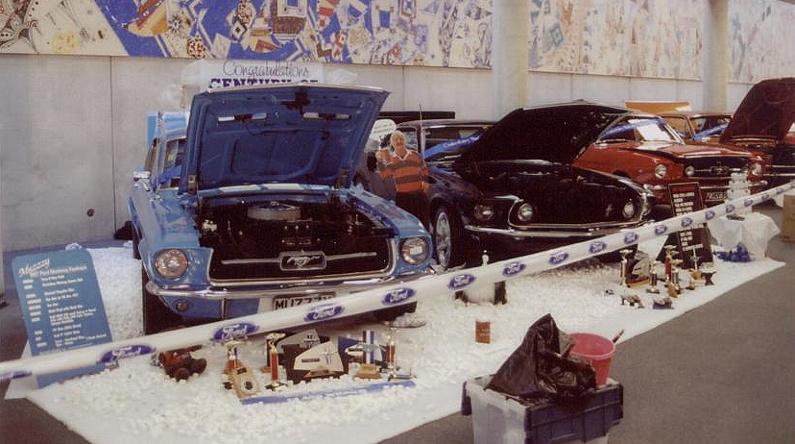 Peter Plumridge and Terry Prisk display by main entrance. (Photos courtesy of Tim Dickson)
Saturday Evening : Social Evening(+ Rugby!)
After the show closed at 5 pm, the cars came storming back to the Garden Hotel and other the nearby Motels. The evening was a free one but at the Garden Hotel there was a band playing and keen supper later for those who came to check it out
Sunday Cruise out to Akaroa
Sunday morning and everyone was keen to get rolling on the cruise to Akaroa. The weather was fine (if a mite chilly at times). The route was most pleasant and took the cars across Christchurch, through the Lyttelton road tunnel, around the harbour through Governor's Bay, over Gebbies Pass and across the hills to Akaroa..

The drive out around the harbour was greatly enjoyed by all. Most (who had not been there before) were quite surprised about who how far it was, but once there were charmed by the quant French town. The cars were parked up on the local school playing field, once everyone had negotiated the narrow entranceway. (Photos courtesy of Tim Dickson)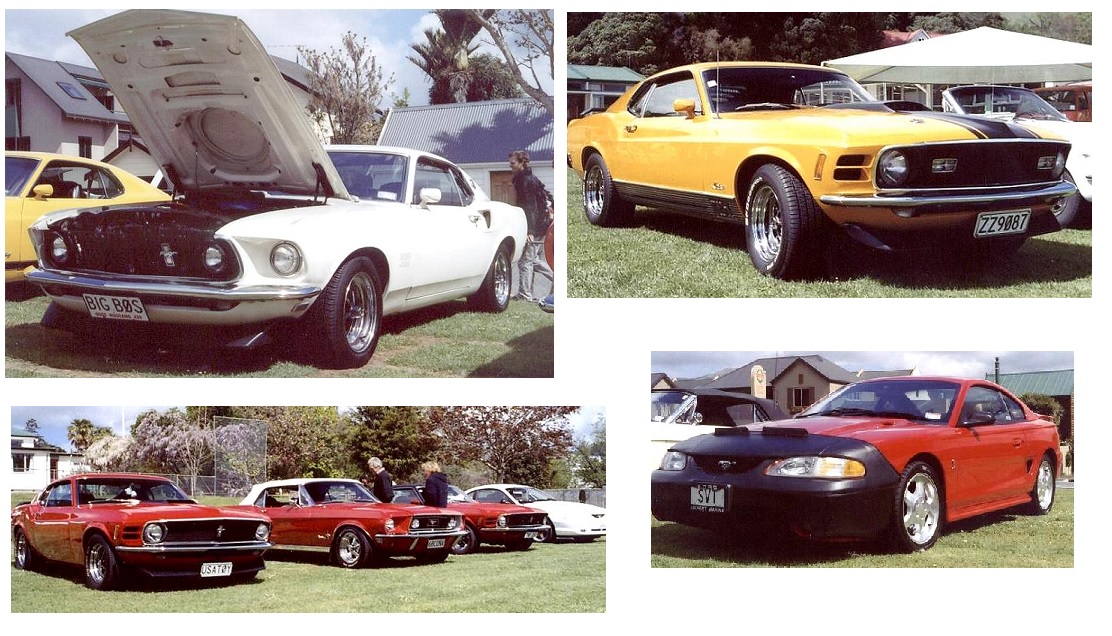 The stangs at school. (Photos courtesy of Tim Dickson)
Next was a Canterbury version of the push and grunt race. Four spark plugs were run across the field by ladies from each club, then their men folk had to install them into a cylinder head. The race was won by the Auckland Club, with the fastest women and the quickest screwers...ahem.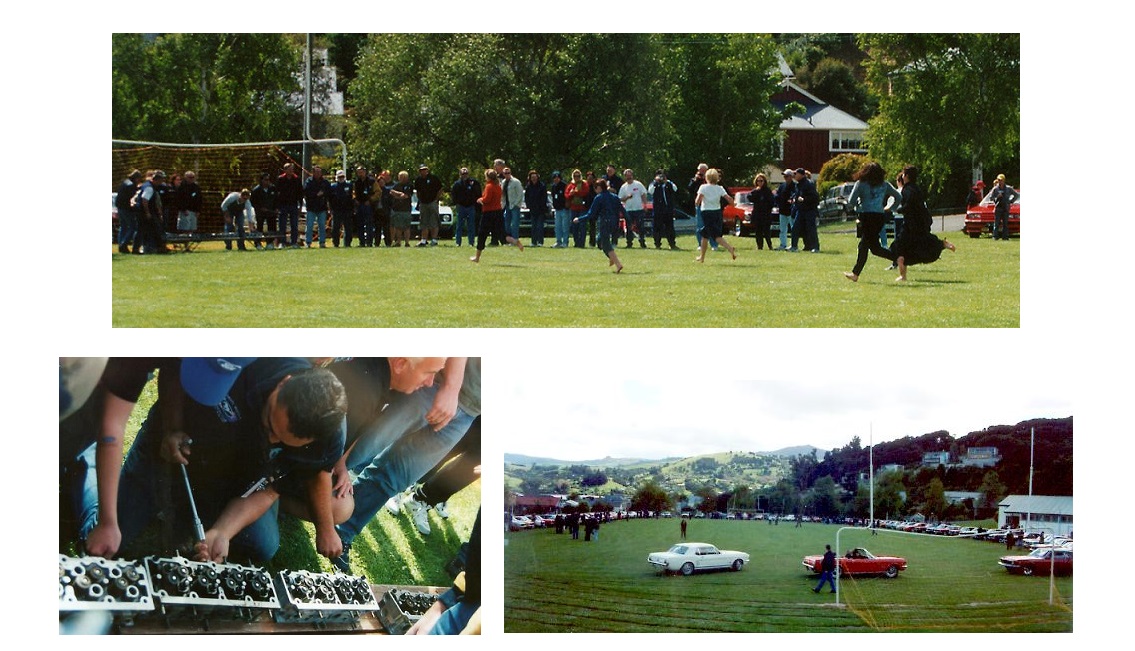 Spark Plug install race games challenge.
Spark Plug install race - "Push and grunt" ladies race - Stangs parked at the school

After the racing, hungry tums were filled in the frm of a very filling boxed lunch, and the rest of the afternoon was free to explore the lovely shops, cafes, quaint back streets and French colonial architecture that Akaroa is famous for.
(Photos courtesy of Tim Dickson)

Sunday Evening Prize Giving, Dinner and Dance
Sunday evening was of course the prize giving and dinner/dance. The event theme was "The letter C", and some imaginative costumes appeared! Cowboys, Call girls, Cat girls, Caveman, Chefs, and many Cops and Convicts etc etc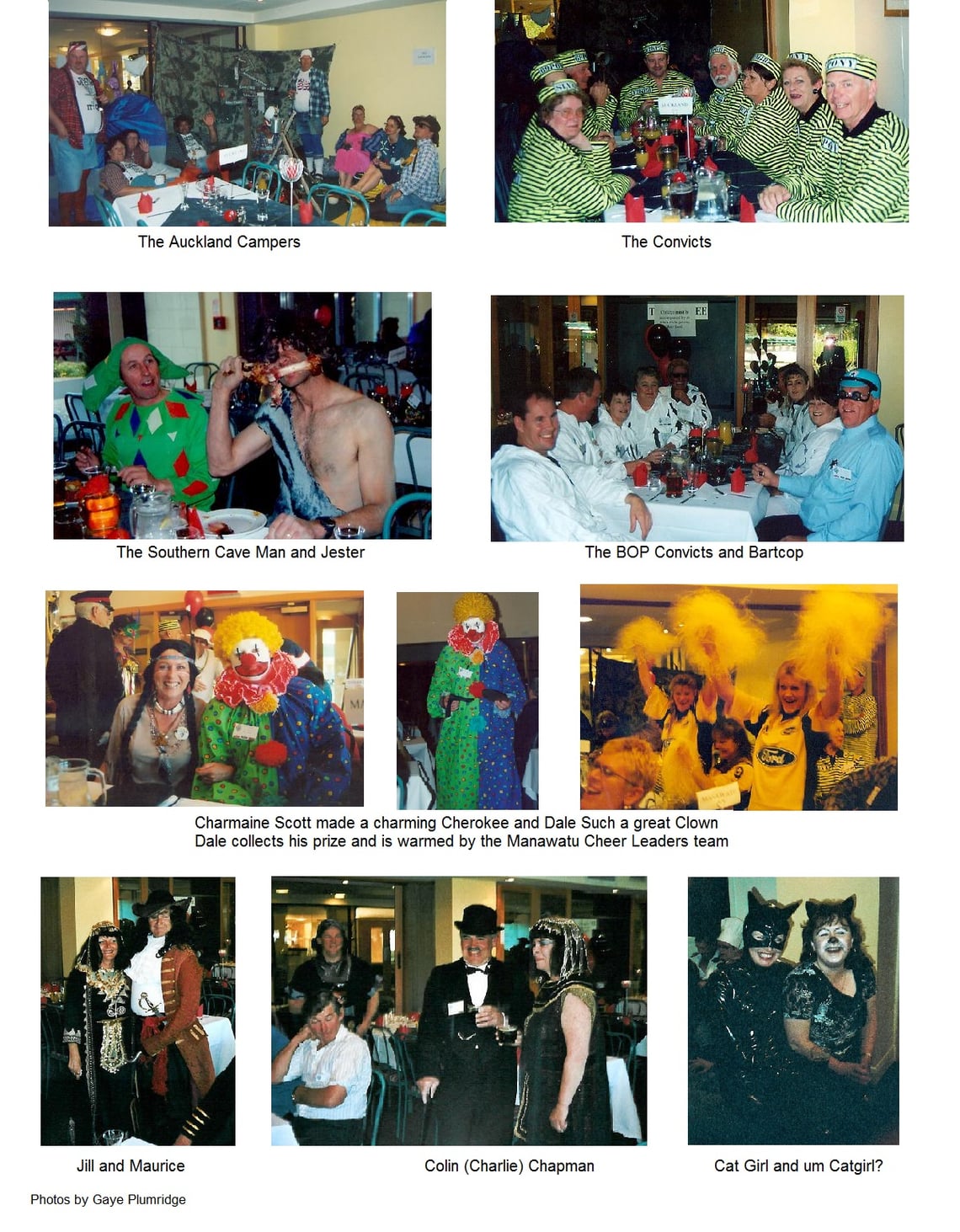 The first event of the evening was an excellent buffet dinner which ensured everyone ate too much and arrived at the prize giving part of the evening with no prospect of any hunger pangs for many hours.
After the excellent buffet dinner and prize giving were completed, a live band played popular music till well into the night ...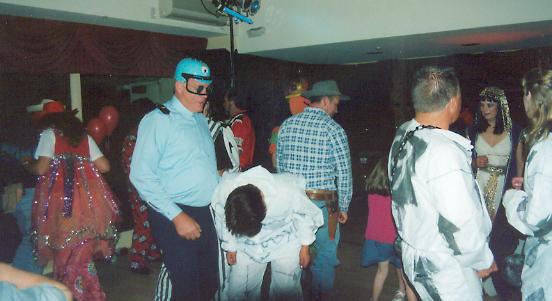 Monday Morning Breakfast and Farewells
After a relaxing lie-in Monday morning more than a few red eyes emerged to pack up the cars. At 8.30 am a meeting of the Presidents from the seven clubs was held. (The minutes of this meeting can be found here Wal). The meeting was followed at 9 am by a yummy cooked breakfast, where everyone had a chance to say their farewells till next year
(In answer to questions from dozens who asked me what the fuel consumption was on the Boss 429 for the trip, I can now advise that it was 13.8mpg overall. (Imperial Gallons). This includes two periods of appalling running with a flooded carb. It suggests I can expect to get about 15-16 mpg in 100kph cruise. Wal)

2003 Canterbury National Mustang Awards
Judging Results: Convention 2003
Place
Winners
Club
Sponsor
1964 1/2 -1966 Hardtop
1st
Jill and Maurice Barrington
Canterbury
Avon City Ford
2nd
Ross Cheer
Manawatu
3rd
Peter Geddes
Canterbury
1964 1/2 - 1966 Fastback
1st
Kathryn and Glenn Martin
Canterbury
Team Hutchison Ford
2nd
Barry Fairbrass
Canterbury
3rd
Jason Burke
Canterbury
1967-1968 Hardtop
1st
Murray Strang
Southern
Smiths Dealers
2nd
Alan and Karen Wilson
Southern
3rd
Neil Rogan
Southern
1967 -1968 Fastback
1st
Terry and Krys Prisk
Canterbury
Christchurch Ready Mix
2nd
Forbes Gourlay
Canterbury
3rd
Robbie and Jennie Kelly
Southern
1969-1970 All Models
1st
Neil and Judy Robinson
Bay of Plenty
R&G Spencer Builders
2nd
Peter and Gaye Plumridge
Canterbury
3rd
Steven McIntyre
Bay of Plenty
1971 -1978 All Models
1st
Doug and Angela Scott
Auckland
Nissbits Dismantlers
2nd
Rusty and Wendy McYowan
Bay of Plenty
1979 - 2003 All Models
1st
Shaun and Barbara Jackson
Auckland
AR Smith Ltd
2nd
Mike and Sue Wright
Canterbury
1969-1970 Mach 1
1st
Roger Bugden
Southern
Maurice Barrington Builders
Equal
Graham and Kathryn Fairbrass
Canterbury
2nd
Barry and Nellie Bender
Auckland
3rd
Moses Bristowe
Auckland
1971 - 1973 Mach 1
1st
Noel and Rose King
Taranaki
R J Paterson Ltd
2nd
Craig Mackenzie
Canterbury
3rd
Vic and John Keen
Southern
1964 -1969 GT
1st
Philip and Marie Scott
Auckland
Albert Street Panel and Paint
2nd
Colin Lambert
Canterbury
3rd
Paul West
Canterbury
1982 - 1993 GT
1st
Ross Nicholas
Auckland
John Gluyas
1994 - 2003 GT and Cobra
1st
Ray and Gail Spencer
Canterbury
Smiths Hire
2nd
Ron and Val Johnston
Manawatu
3rd
Jeff Tobin
Auckland
1964 1/2 to 1973 Convertibles
1st
Phil and Liz Munt
Auckland
Mag and Turbo
2nd
Ashley and Sandy Smith
Canterbury
3rd
Dale Such
Manawatu
1983 - 2003 Convertibles
1st
Tracey and Greg Roberts
Canterbury
Australian Auto Parts
Shelby
1st
Mathew Barr
Canterbury
Sutherland and Co Ltd
2nd
Evan and Lyn Sanderson
Southern
3rd
Philps Rinaldo
Canterbury
Boss
1st
Paul West
Canterbury
Southern Mustang and Ford
2nd
Wal Marshall
Manawatu
3rd
Boyd Roberts
Canterbury
Best Paint and Panel
1st
Ray and Gail Spencer
Canterbury
Burkes Metal Works
Equal
Jason Burke
Canterbury
2nd
Chris Stone and John Camm
Manawatu
3rd
Phil and Liz Munt
Auckland
Best Engine Bay
1st
Ray and Gail Spencer
Canterbury
Automotive Services
2nd
Paul West
Canterbury
3rd
Ross Cheer
Manawatu
Best Interior
1st
Phil and Liz Munt
Auckland
Kaiapoi Alignment and Tyres
2nd
Phil and Marie Scott
Auckland
Equal
Ray and Gail Spencer
Canterbury
3rd
Chris Stone and John Camm
Manawatu
Equal
Dale Such
Manawatu
Ashley Smith
Canterbury
Best Individual Display
1st
Peter and Gaye Plumridge
Canterbury
The Garden Hotel
Equal
Terry and Krys Prisk
Canterbury
2nd
Ray and Gail Spencer
Canterbury
3rd
Ian and Carla Blockland
Canterbury
Peoples Choice
1st
Wayne and Leone Beckett
Southern

Focal Point & Mothers

2nd
Steve McLoughlin
Canterbury
3rd
Ashley Smith
Canterbury
Dipstick Award
Mark Ansell
Canterbury

For wearing Chevy belt buckle on show day!

First Registration
Barry and Nellie Bender
Auckland
Push and Grunt
Run + four spark plug install race.
Auckland
The overall prize giving results for each club are set out below.
Total Prize Pool by Club.
(Includes all Awards)

Club

Cars Registered

Prizes

Auckland

16

13

Waikato

4

0

Bay of Plenty

5

3

Taranaki

1

1

Manawatu

17

8

Canterbury

44

33

Southern

26

8

Totals

113

66
(Canterbury....didn't they do well!)