MUSTANG SHOWCASE
In this section we showcase selected Mustangs and their stories. Most are member's cars, but we also spotlight some other notable Mustangs that shape the legend.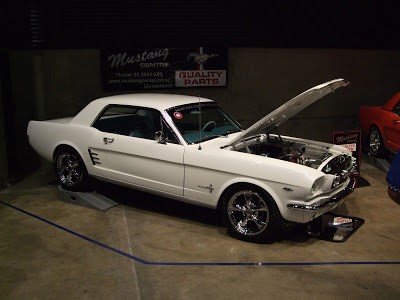 SHOW STOPPER
Model: Mustang Coupe Year: 1966
Engine: 289 ci V8 Transmission: Automatic
Special notes:
One of the best known Mustangs in our club, owned by our former long serving club captain. Meticulous two year restoration 2007-8, faithful to its originality but with sensitive modern age refinements such as rear disc brakes, reset suspension and chrome alloys, enhanced interior specifications and comfort.
This Mustang exhibits attention to detail beyond every expectation, and is a multiple show winner year after year, despite being regularly driven and enjoyed, event after event, year after year.

THE 1970 PDL MUSTANG
First appearing in late 1970, this Mustang which went on to achieve legendary status was originally imported by Paul Fahey and raced in Cambridge colours (Fahey of course had already established himself as NZ's championship winning sedan driver in his '66 Shelby Mustang and the FVA Escort). Built from a genuine Boss road car, it featured a strong, high horsepower 351 V8 and well engineered suspension. After one season, Fahey sold the Mustang to PDL for the 1971/72 season
Further development was undertaken under PDL ownership, with wide body flares, more and more horsepower, the distinctive blue paintwork and PDL branding. Graham Baker took over the driving from Fahey, and then Leo Leonard in latter seasons when its greatest successes were achieved.
"PDL1" as it came to be known captured hearts and minds with its speed, race wins, increasingly aggressive looks and stance, and its advertising tag line 'Electric Blue and 180 mph")
Faithfully restored, PDL 1 is owned by Steve Ross of Dunedin.
(Photo by Terry Marshall)

BIRTH OF A LEGEND
Model: Mustang Notchback Year: 1964
Engine: 260 ci V8 Transmission: Automatic
Special notes:
Wimbledon White, whitewall tyres, exactly the same specifications of Mustang featured in Ford's launch advertising, April 17 1964. This example, built in early April, was purchased on launch day in a New York dealer showroom, and owned for 40 years by its original owner, covering only 45000 miles. Imported into NZ in 2005, this Mustang is "timewarp original", with only regular maintenance servicing. Mileage is still only 52000 miles. One of the very oldest Mustangs in NZ, and the world.

TRIBUTE TO FORD'S TRANS AM SUCCESS

Model: Mustang Fastback Year: 1970
Engine: 302 ci 4V V8 Transmission: 4 Speed
Special notes:
1970 was Ford's glory year in Trans Am racing, the greatest year of the pony car war that dominated US motorsport 1966-72. In their grabber orange factory backed Boss 302's, Parnelli Jones and George Follmer won 6 of the 11 hotly contested races, and the overall championship. This '70 Fastback epitomises those halcyon days, restored and carefully built by its owner as a faithful tribute, in every respect. High performance 302 V8, Hurst shift manual, minilite wheels, special handling package, and more. And it sounds even better than it looks!

KING OF THE ROAD

Model: Shelby GT500KR Year: 2009
Engine: 5.4L Supercharged V8 540hp Transmission: 6 speed Manual
Special notes:
One of only 712 GT500KR's built in 2009, the KR reflects a special one time collaborative effort between Carroll Shelby personally, Shelby American, Ford's SVT operation (Special Vehicles Team) and Ford Performance Racing. What makes it different? The special 5.4L supercharged engine, Ford racing suspension, classic KR styling cues from the legendary 1968 Shelby GT500KR, unique carbon composite bonnet, special wheels, badging and stripes. Adding to the exclusivity is the fact that the 2008/09 KR model was one of only two "pre-title" Shelby models, where Shelby is listed as the actual manufacturer (part assembled cars were shipped to Shelby American and then completed). Other Shelby models were post title, modified by Shelby after being fully built prior by Ford. Truly, King of the Road!

THE GREAT PDL 2 MUSTANG
If we had to choose a Mustang that best showcases Ford's motorsport heritage, most fans would probably select this car, the fabulous PDL 2 Mustang.
Based on the 1976 Mustang II model that was noticeably smaller than previous model years, this Mustang which quickly became known as just "PDL 2" was entirely engineered by the PDL team in Christchurch to US specifications. It featured a special 6 litre all aluminium Cleveland V8 with Gurney Weslake heads and Lucas fuel injection. With Leo Leonard behind the wheel during its racing life in 1978/79, PDL 2 set lap records everywhere it raced, some of which still stand! It raced against the top sports sedans here in NZ and in Australia, with notable success, in front of large crowds who were always sure to be on their feet.
Today, 40 years later, PDL 2 still commands the same aura and iconic status. Still based in Christchurch, under the special care of the Stewart family and Henshaw racing, the legend continues with regular historic appearances.
(Leo Leonard at Pukekohe, 1979. Photo by Ross Cammick)

RACERS SPECIAL
Model: Mustang Saleen Dan Gurney Edition Year: 2008
Engine: 4.6L Supercharged 465HP Transmission: 5 spd manual
Special notes:
One of 68 special Mustangs built by Saleen Automotive, in collaboration with famous US racing driver and engineer Dan Gurney, commemorating Gurney's '69 Boss Trans Am Mustang. As well as Saleen's high output supercharged engine, this very limited edition has a unique high performance set-up including Watts link rear suspension, Koni shocks, 285/30x18 Pirelli Corsas, sports seats and more, capped off by Dan Gurney's signature. Dan Gurney (who passed away in 2018) was a winner in Formula 1 with his own Eagle V12 racing car, won Lemans for Ford in 1967, and was a close friend and racing partner with Bruce McLaren.

SLAYER'S SHELBY
Model: Shelby GT California Edition Year: 2008
Engine: 4.6L V8 Transmission: 5 Speed Manual
Many LHD permit Mustang imports can claim interesting stories re their previous US owners, this gorgeous Shelby GT California Edition is very much one of them, with its first owner Paul Steven Bostaph. One of only 200 California Editions made, this Shelby is distinguished by its striking white and silver stripe Shelby colours, and its unique special edition gauges and identity badging. And who's Paul? The high energy, flamboyant drummer in renowned heavy metal band Slayer, not your everyday Shelby owner!